Olio Extra Vergine di Oliva estratto a freddo con olive di agricoltura biologica nella reale "Cartoceto Dop".
Extra virgin olive oil, cold pressed from
organic agriculture in the area of Cartoceto Dop.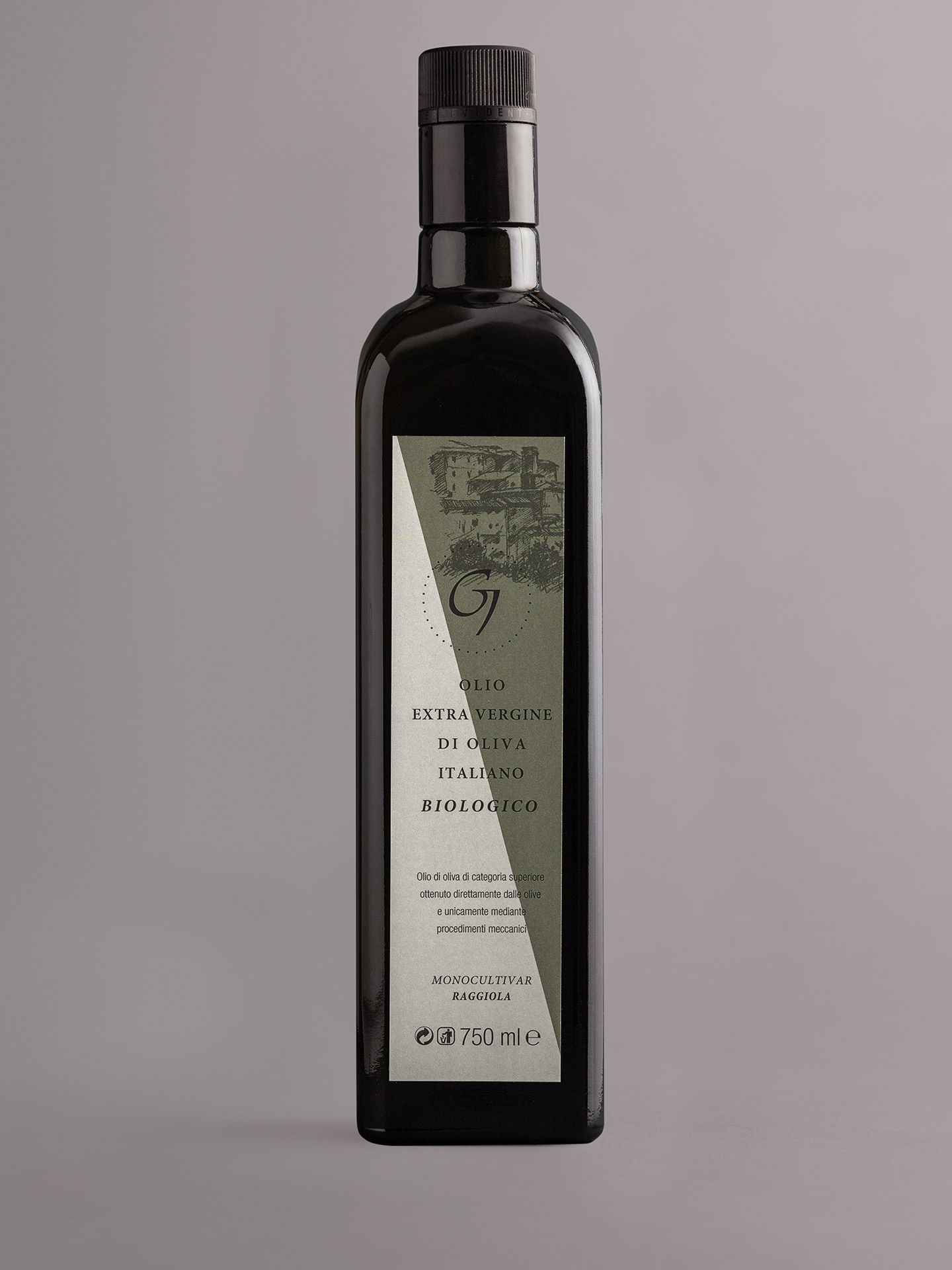 Olio Extra Vergine di Oliva Biologico
L'olio contenuto in queste bottiglie è stato "estratto a freddo" con un processo di centrifugazione della pasta di oliva a meno di 27°C. Le olive, rigorosamente brucate a mano, vengono lavorate entro 24 ore dalla raccolta per lasciare inalterati i profumi e i sapori del frutto e ottenere così un prodotto dal valore gastronomico eccellente. Le olive utilizzate provengono esclusivamente da nostra agricoltura biologica.
The content of this bottle has been produced by a process of centrifugation of the olive paste with less than 27°C. The olives, savagely harvested by hand, are processed within 24 hours after the harvest, to keep all their tastes and flavours of the fruits to obtain a product with an excellent culinary value. All our olives used for these wonderful oils derive from our organic agriculture.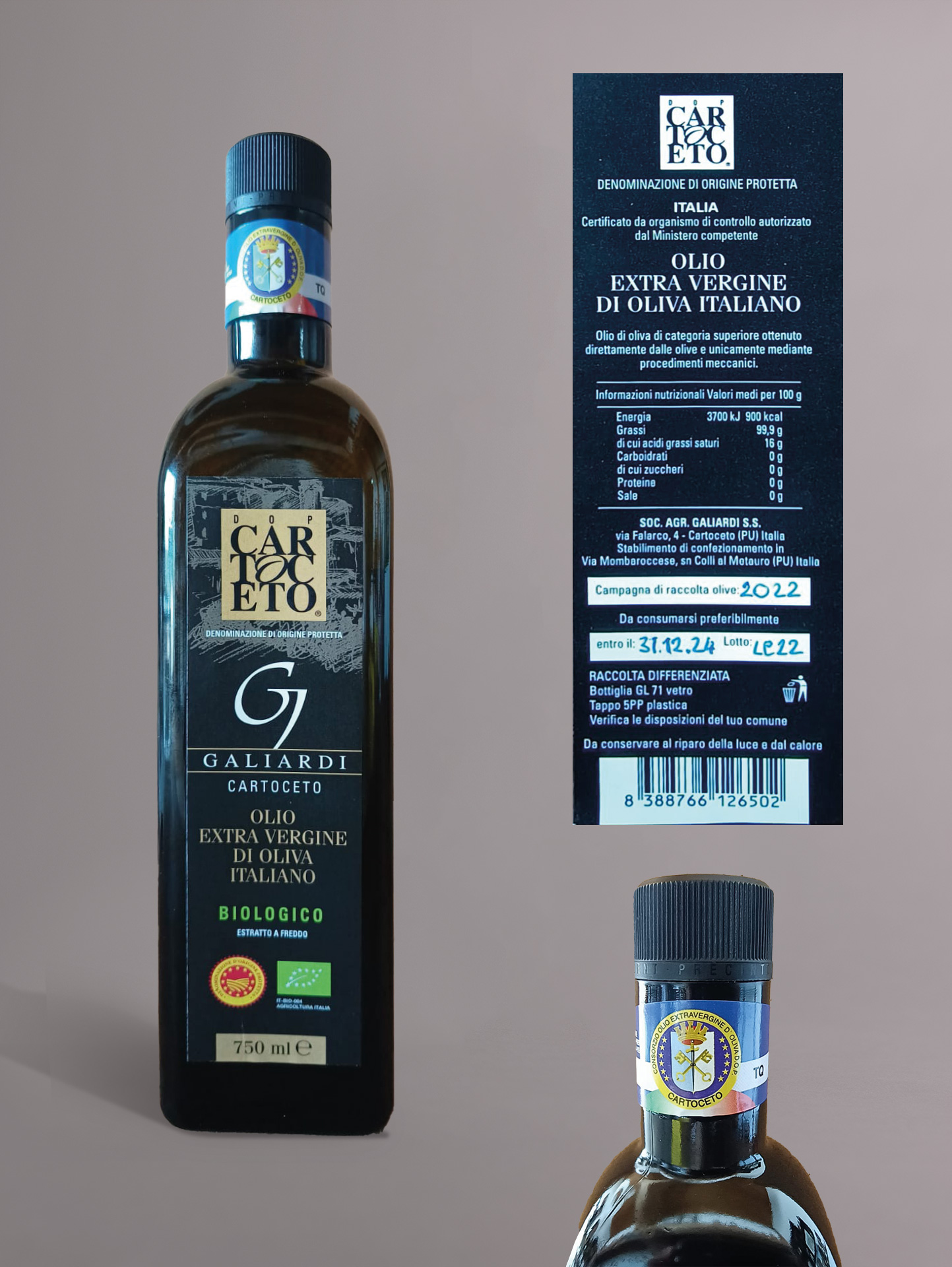 Olio Extra Vergine di Oliva Biologico Italiano
DOP Cartoceto
Verde, o verde con riflessi giallo oro per gli oli ancora molto freschi; giallo oro con lievi riflessi verdognoli per gli oli più maturi. Fruttato di oliva verde, da leggero a medio, secondo la scala C.O.I., con lieve sentore di erbaceo. Sono presenti i caratteristici e gradevoli profumi di mandorla verde e mela acerba. METODO DI PRODUZIONE: L'olio DOP Cartoceto si estrae dalle olive provenienti dalle cultivar Raggiola, Frantoio e Leccino.
Green or green with light yellow reflections for the very fresh olive oils, golden yellow with fresh green reflections for the ripened oils. Fruitiness of green olives, from light to medium, following the C.O.I. scale, with light flavours of herbs. Very present the characters and lovely tastes of green almonds and green apples. Metod of production: The Cartoceto DOP olive oil extra vergine is produced from the olive varieties Raggiola, Frantoio and Leccino.
L'olio prodotto ha rappresentato da sempre uno tra i beni più apprezzati e la comunità si preoccupò, fin dai primi tempi, di vendere l'olio in piazza dei giorni di mercato. Alcuni storici fanno risalire l'origine di Cartoceto ai Cartaginesi che, scampati alla battaglia del fiume Metauro (207 a. C.), si sarebbero fermati sul posto formando i primi nuclei familiari.
Cartoceto deriverebbe così da "Carchidon" o "Carthada", nome greco di Cartagine, o dal latino "Carthaginensium coetus", gruppo di Cartaginesi, da cui Carticetum.
The olive production has always been one of the most prestigious values in the village of Cartoceto, where it has been traded in the Piazza during the market days. Some historians base the origins of the village of Cartoceto to the Carthaginians, escaped from the battle at the Metauro river in 207 b.c., and hiding in the hills to settle the first families. Cartoceto derives from "Carchidon" or "Carthada", Greek name of Carthago, or from the Latin "Carthaginensium coetus", group of Carthaginians, therefore Carticetum.